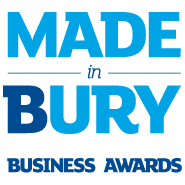 The Athena Programme's founder and director, Sarah Carlick, has been nominated for Businesswoman of the Year in the Made in Bury Business Awards.
It's an exciting opportunity for Sarah who is from Bury herself and has based her thriving bespoke safeguarding training consultancy in the town.
The Made in Bury Business Awards (MIBBAs) are all about championing local Bury businesses and celebrating their outstanding achievements.
Now in their fifth year, they are an acknowledgment of the successes of Bury's diverse business community.
They feature 18 business categories covering all sectors plus 2 new awards; Bury Businessman and Bury Businesswoman of the year.
Sarah says of her recent nomination:
"I'm delighted to have been nominated for this award. Bury is a place very close to my heart and if I were to win Businesswoman of the Year I'd shout it from the rooftops as it would be a real highlight for me both personally and professionally".
To find out more about the MIBBAs visit http://www.madeinbury.co.uk/business-awards.