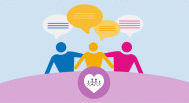 In today's society it takes leaders to act responsibly with a very realistic view of safeguarding. Leaders need to understand that no organisation is immune to historic allegations of sexual abuse, sexual discrimination and inappropriate behaviour.
We've seen numerous horror stories emerging recently in the news from adults that are finally speaking out about being abused as children or young adults and from adults that have experienced sexual harassment.
The historical landscape cannot be changed, but if we embrace the future we can all change its shape by being transparent and responding clearly and appropriately to historic claims of abuse. Abuse covers a number of areas such as bullying, harassment, grooming, emotional, physical and sexual abuse and misconduct.
There's a vast number of young and vulnerable people that come into contact with key areas where abuse exists including: voluntary sector organisations, religious organisations, private residential care homes, sports clubs, schools, etc.
It is unrealistic and naive to think that none of these young and vulnerable people have been subjected to some form of abuse. The extent of the abuse is unknown, however anecdotally reports indicate widespread patterns of abuse within an organisational context. I am wary of quoting statistics, but what we do know is that the national and international news headlines are telling us this over and over again!!
As always within organisations it is the people at the top where accountability and transparency starts and ends. They need to be brave and bold to safeguard not only whom they serve but the reputational risks for the organisation that they serve.
10 things to consider are:
Does your organisation have a holding statement signed and dated as of now which explains the organisation's commitment to historic allegations or disclosures of historic abuse? Does your organisation ensure that past and present employees, volunteers and service users understand that they will be taken seriously and their allegations will be handled sensitively and investigated as deemed necessary?
Do you have clear governance arrangements and reporting pathways?
Do you have a historic abuse policy and procedure that guides you and your staff through a clear process?
Has a crime been committed? Do you need to inform the police or refer a person to appropriate protect services? Do you need to consult a lawyer on behalf of the organisation? Do you need to contact the Independent Safeguarding Authority (ISA) or the Local Authority Designated Officer (LADO)?
Does your organisation have a Code of Conduct that is signed and dated by staff and volunteers?
Have you ever thought that it may be useful to conduct an audit of old files and cases?
Have you made sure that you have internal or external contact details where you can signpost victims to for support?
Do your HR procedures cover allegations/disclosures of historic abuse including for disciplinary and dismissal procedures?
Are there any factors historically in your organisation that may have led to abusive incidents?
 Are there risk factors or risk indicators that might identify potential offenders?
Organisational factors play a role in abuse opportunities as well as cultural factors. These may include high levels of isolation, power and authority, lack of direct supervision, related stress, isolating service users and inappropriate relationships.
Always respond promptly to all allegations of abuse and comply with the statutory duties regarding reporting of the allegation(s) and cooperating fully with the multi-agency response and subsequent investigation(s). It goes without saying offer support and compassion for the victims and their families and communicate sincere commitment to their well-being.
We need to have these conversations and keep them on the agenda. It is sad to think about, but nevertheless it is overwhelmingly an important part of the safeguarding agenda for both children and adults.