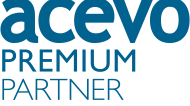 We are proud to announce that we recently joined ACEVO (Association of Chief Executives of Voluntary Organisations) as a Premium Partner.
For 30 years, they have provided support, development and an inspiring, collective campaigning voice for their members across the UK. ACEVO's network of over 1,200 individuals includes the leaders of small, community based groups, ambitious medium-sized organisations, and well known, well-loved national and international not-for-profits.
As a Premium Partner, The Athena Programme have our own dedicated page on the ACEVO website  and we are delivering a workshop on Leading safer Cultures at June's CEO Forum. Our MD, Sarah, will be attending ACEVO CEO Forums that are scheduled throughout the year and our details are in the ACEVO handbook. Please also watch out for our features in the ACEVO publications and Leader 2 Leader Newsletters.
As an experienced provider to the voluntary / third sector we offer a discount to ACEVO members on all our safeguarding training and consultancy services.