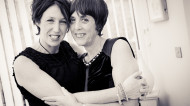 Having watched her mother and close friend both lose their lives to ovarian cancer, business woman Sarah Carlick decided to face things head on  and get herself tested for an abnormal gene which, if positive, could mean a greater risk of developing ovarian and breast cancer.
Sure enough results day came and Sarah, now in her 40s, had tested positive for the BRCA1 gene mutation which, along with the BRCA2 gene, is prevalent in Ashkenazi women particularly of her age.
Taking inspiration from her mother who had been a very proactive volunteer co-ordinator for a
Jewish charity in Manchester, so arming herself with the experiences she had seen her mother go through she decided to give what's still considered a less talked about disease a much needed voice.
Having had preventative surgery in December 2015, Sarah's efforts haven't gone unnoticed. She has attended a Target Ovarian Cancer campaign launch at The Houses of Parliament following on from the news that she had been made an ambassador for the cancer charity.
Perfect for the role, with the right attitude and determination to face the disease head on, Sarah appeared on Channel 5's prime time news programme after word spread that Bury's dynamic mum of one has continued with the lobbying group called the Tic-Toc committee that her mum set up before she passed way, created to raise funds and awareness of ovarian cancer.
A remarkable ambassador for Target Ovarian cancer, she is also chairperson for the TicToc committee. This month they will be presenting £10,000 to Christie's Hospital for OC research. She happily steps up to the podium and has reached audiences that others failed to capture through sheer determination and grit.
Read more her story here:
https://www.targetovariancancer.org.uk/stories/familial-symptoms-ovarian-cancer-awareness-month-familial-ovarian-cancer/sarahs-story
https://www.thesun.co.uk/uncategorized/5715309/mum-has-ovaries-removed-to-beat-cancer-after-her-mum-died-and-vows-to-test-her-daughter-for-killer-angelina-gene/
https://www.thesun.co.uk/fabulous/5670502/ovarian-cancer-campaign-ovarit-charity/