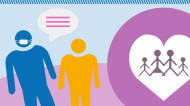 At Athena, we understand that safeguarding is a vital component for your continued professional development. That's why we have been delivering bespoke safeguarding training and consultancy to dental professionals and dental teams since 2009.
Working closely with Health Education England (North West and North East), we have designed and delivered effective and interactive safeguarding programmes to meet the needs of busy dental practices as well as meeting national and local safeguarding governance and compliance, e.g. General Dental Council (GDC) Standards, Care Quality Commission (C.Q.C), Essential Safeguarding Standards and your Local Safeguarding Board Standards.
We deliver different levels of safeguarding programmes dependant on your professional role, complying with governing body competencies and requirements for safeguarding training, such as Royal College of Paediatrics and Child Health 2014 Intercollegiate Guidance for Healthcare Staff.
From our Basic Awareness Programme (a minimum level of training required for the whole dental team), to a higher level of training aimed at more senior dental professional or practice safeguarding leads, we offer the full range to make you a safer, compliant practice that provides your patients with a safer experience and environment. A new Safeguarding Children Level 3 course has been developed in 2018 for delivery to Paediatric Dental Professionals who are required to assess the needs of children for Child Protection Meetings.
Please visit the training services page on our website for full details of all the courses we offer.
Athena is also able to offer the same training programmes to private practices to ensure consistency within the dental profession regionally which offers extra benefits to larger practices. This includes training events for the whole team together at your practice, eliminating the need for your staff to travel long distances at different times and days.
Our facilitators at Athena understand the main safeguarding issues that face dentists on a daily basis in respect of children (dental neglect) and adults at risk (consent and capacity).
As ex-practitioners in the safeguarding world, our trainers can draw on their own experiences to make your training real and to increase the confidence of professionals in dealing with safeguarding issues.