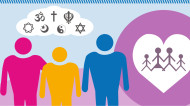 Catholicism, Christianity, Judaism, Islam, Buddhism, Hinduism, the list goes on. Fundamentally, religion is groups of people with different mind-sets, rules, traditions, cultures, practices and daily routines. What they all have in common is shared human rights and the right to be protected from harm and abuse. Growing up in the Jewish faith, I hold a variety of perspectives on the rights and wrongs of faith-based groups and from being an insider to acting and being accountable as a safeguarding professional.
The media has shared stories of the Catholic churches' sex abuse scandal, the child abuse claims of the Islamic Madrassas and now the claims against Chassidic Jews. Child abuse and abuse of vulnerable adults is systemic in all religions and all countries. It is a global issue regardless of which group you belong to. So why is it now only the focus of debate when yet another allegation has been made?
Key considerations for faith-based organisations:
Tight-knit communities like to keep things 'in-house' due to fear of losing those traditions, weakening and dispersing what generations have held onto for years, giving them their identity and way of life.
It takes brave community leaders to stand up and admit abuse and the detrimental impact of abuse taking place in their community.
We have always done it this way and why should we change now!
Our values and faith are based on charity, kindness, love and compassion. For some it is aberrant to think about, let alone to talk about the issue that religious people may act in an abusive way that does not follow these inherent beliefs and behaviours.
People are frightened of losing control and the involvement of the criminal justice agencies.
There has been a monumental view of a change in societal paradigm in relation to responding and acting on allegations of abuse in the last ten years and the faith-based communities are not keeping up-to-date on these changes.
There is a lack of understanding and barriers of community members' personal stories of abuse of power, feeling trapped, internal contradictions, living in a secular society, being shunned, consequences to disclosure, loyalty, family ties, to name a few.
I am able to glean insights from my experience of working with a national Catholic charity with over 20,000 volunteers. The introduction of CRB checks seemed ludicrous for them for example to ask the elderly lady who had come to the church to make tea and coffee and other community members to undergo a CRB (now DBS) check. This is now normal practice and part of the safer culture in some faith-based organisations.
Abusive activities should not be tolerated and this needs to be acted upon. This must be the multi-faiths standpoint. It's not just a matter of having a policy or delivering training it is that the professionals working in these faith-based organisations need to balance and respect the list I have outlined above with safeguarding responsibilities.
Working together needs to go beyond the traditional form and adopt new innovative programmes to take everyone on the same journey. We need to view each community individually within a collective audience. Useful, practical, realistic and culturally sensitive resource materials need to be produced with the community members. Networks need to be formed within the communities and work to support community members as safeguarding champions. These transitions take time and understanding to ensure everyone comes on the journey. Moreover, if transparency and appropriate responses to allegations without media hype are part of the programme of change, then we can start supporting a new safeguarding landscape.