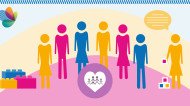 In any situation we have the choice of what to focus on. Experiential training methods including creativity and spontaneity for one, stop us being bored and bring in the element of fun. Furthermore, it helps us focus on the learning that has been outlined for the day.
The development of action insight and the release of spontaneity into the training room occur as the trainer promotes the purpose of the group and within the warm-up starts to co-create the enactment. Action methods involve working with the participants on their experiences and lessons about safeguarding and how to make use of this and new knowledge to make them more effective agents of change.
Action methods also have an empowering and motivating effect on practitioners. From my years of experience as a trainer, facilitator and educator, I am going to share my reasons why I love this way of training and facilitating so much…
Creativity and spontaneity makes the session fun especially when discussing a very emotive topic such as 'abuse'.
As participants' insights grow through exploration, their energy gets released and they take action in the situation they face. I think of this as action insight.
Warm-up exercises are the key to 'unlocking the doors' so that participants experience themselves flowing with free choice rather than acting out of narrow roles in constrained situations.
By using real case scenarios aligned with the organisations safeguarding concerns/issues the participants are able to explore 'reality' and keep safeguarding at the core.
The use of pictures and objects enable participants to stand back from the issues in hand and to be more reflective. They are empowered and supported to discuss issues they may have found difficult previously. Participants then project the issue onto the object or picture which gives them a safer space to share.
The trainer's thermometer allows the trainer to use a group's energy to work at the group's pace adapting to their role of trainer, facilitator and educator.
Over planning can lead to restrictions and failure to meet the group's learning needs by being over-reliant on things such as PowerPoint slides and agendas.
Actions speak louder than words!
Participants engage in role play without even knowing it.
By participants undertaking a variety of learning exercises they are able to not only be self-critical, but self-reflective and create an atmosphere of peer support.
Actions methods allow the naming and exploration of roles for example the professional's role undertaken within multi-agency safeguarding. Each role has a public (collective) and a private (individual) component.
Creative training methods are proven to enhance confidence and competence of staff.
The group are able to work and learn to think through and solve real safeguarding-based scenarios whilst individually focusing on specific issues.
Through the use of creativity, usually from the warm-up exercise, a safe learning environment is created which allows group members to be supportive but yet challenging. Alongside this it also creates a respectful environment and encourages diversity of opinions and viewpoints that are put forward.
The best thing I love, is that by using such methods as described above it ensures equality of opportunity for every member of the group to participate in all of the training session.
Anyone who has been a delegate in our training or consultancy sessions will know that we love laminates, pictures, wool, Lego, pass the parcel, movement and a box of chocolate celebrations to name but a few!