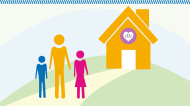 In the last few years we have worked with many local and national housing providers delivering safeguarding training and consultancy services.
Working in partnership with the housing sector is a passion of mine, as I set up one of the first Family Intervention Projects in the country. I had the privilege of managing an interdisciplinary team of both backgrounds in social care and housing. I understand and appreciate how housing organisations, neighbourhood teams, housing officers and support workers have had to adapt and embrace safeguarding.
I have summarised the key trends based upon my experience and work:
Policy and procedure reviews are not always conducted annually.
Policy and procedures are not fit for purpose and there is a lack of clear governance and reporting pathways. Sometimes policy and procedures are over complicated with many different reporting pathways divided by business areas. On the other hand, I have come across policy and procedures that are too simplistic and offer little reassurance for effective safeguarding.
Safeguarding within care and support and general needs are viewed separately.
Generally, I see ineffective recording and poor investment in internal IT systems and adapted databases with a primary purpose for monitoring anti-social behaviour not safeguarding. Furthermore, often IT for information sharing is ineffective where the IT system is unable to share critical information between internal departments. This results in poor customer profiling and thus organisations are unable to profile safeguarding matters and incidents. For example, everyone in the organisation knows something about an incident or elements of customer history and no one person within the organisation is able to bring all the information together. This potentially could be in connection with areas such as domestic abuse or modern slavery (sub-letting).
There is a lack of designated safeguarding people or champion models. Therefore, information is not cascaded and there is a lack of accountability.
Adequate training can be absent for different levels of staff with a need to go back to basics. In this case, clear and structured whole organisation training programmes including Designated Safeguarding Officer training are required.
The introduction of a safeguarding overview group or committee should be considered. Generally, these have not existed but their introduction as a standard sub-committee is becoming increasingly popular and necessary.
There is a lack of appropriate safeguarding information for service users or customers.
Safeguarding audit tools also tend to be absent.
Housing providers' management of hoarding and keeping tenants safe and balancing this with healthy and safety and the community impact is a challenge. Admittedly, the issues of tenants hoarding needs a structured partnership approach. However, some housing providers are reacting with eviction as the answer rather than approaching the issue with the understanding that it is a serious mental health issue that creates critical risk management and safeguarding issues.
There are barriers to information sharing from external agencies, often caused by negative attitudes towards housing staff.
There is a lack of confidence in approaching the high referral thresholds by social care teams.
Multi-agency working in general and safeguarding in particular raise complex issues for housing providers and for all partner agencies.
There are many incentives for housing providers' engagement in safeguarding. This is due to the increasing public, political and media awareness of abuse. The reputational risk for all providers of services and regulatory requirements should drive commitment.
There are increasing numbers of families and adults at risk living in social housing. Essentially safeguarding links to other agendas that housing is (or should be) engaged in: anti-social behaviour; crime reduction; domestic abuse; disability hate crime; health and well-being; CSE and trafficking; modern slavery; Prevent; HBV, FGM.
Evidence from Serious Case Reviews conveys failures of housing providers to prevent murder, abuse and neglect of children and adults at risk, including those living in general needs housing. There is more information published by SCIE on guidance on 'Adult safeguarding for housing staff' and the Duty to Co-operate.
In summary, there are always lessons to be learnt on how to be innovative within safeguarding practices. The areas that you can think about for improvement could cover:
A system for constant review of policy and procedures.
A safeguarding champions model including consultation plans with residents.
Internal IT systems and databases of all tenants should be set-up to enable clear identification of vulnerabilities and safeguarding concerns.
An awareness of safeguarding by all staff and an effective reporting pathway back-up by a comprehensive training programme.
Housing is often neglected in multi-agency work on safeguarding, despite the contribution that frontline staff can make. Strategically and operationally, adult and children's social care and housing managers must meet locally to identify and address barriers and to promote best practice. They should also celebrate, identify and acknowledge the good practice already happening within their organisation.