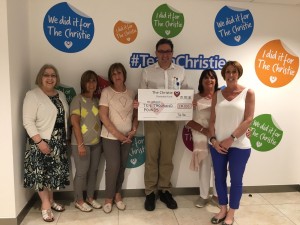 We have held many different fundraising events and this week we donated £10,000 to The Christie for ovarian cancer research.
Representatives giving the donation (in the picture – are left to right Shirley Nesbit, Susan Rudolph, Philippa Fledman, Professor Gorden Jayson, Linda Merten and Dr Sarah Carlick).
The Tic Toc Committee was formed in 2011 by Ros Carlick and her friends to raise awareness of ovarian cancer and fundraising for ovarian cancer research. Ros sadly passed away in 2013 and Marilyn Cohen our dear friend passed away in 2015. 
A special thank you goes to Tic Toc Committee members Anita Isaacson and Dr Sarah Carlick who chair the committee and everyone that supports us.
The symptoms of ovarian cancer can be difficult to recognise, particularly in its early stages.
This is because they are often the same as symptoms of other less serious conditions, such as irritable bowel syndrome (IBS) or pre-menstrual syndrome (PMS). 
However, three main symptoms are more frequent in women diagnosed with ovarian cancer. They are:
increased abdominal size and persistent bloating (not bloating that comes and goes)
persistent pelvic and abdominal pain
difficulty eating and feeling full quickly, or feeling nauseous
Other symptoms, such as back pain, needing to pass urine more frequently than usual, and pain during sex may be the result of other conditions in the pelvic area. However, they may be present in some women with ovarian cancer.