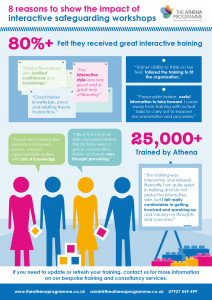 Are you looking for safeguarding experts that provide creative, engaging training workshops? Take a look at our infographic below on 8 reasons why our attendees love Athena's approach…
Whether it's training courses in safeguarding children or adults or for DSO's, Athena offers a full range of training solutions.
A leader in safeguarding training, we are well-known for delivering creative and dynamic training courses bespoke to your organisation.
We also offer many other creative solutions that cover all your safeguarding needs, from carrying out scoping exercises and training needs analyses, to speaking at conferences and developing full scale safeguarding packages.
If you are looking for safeguarding training to be delivered by experts in their field that place care and creativity at the heart of training, contact us for more information.